Children have a natural tendency towards learning and our prepared environments are designed to meet the needs of children in a specific age range. Children are free to choose and work on activities at their own pace. The environment that we create lets the child experience freedom and self-discipline in calm, well organised surroundings. Children can learn through their own experience repeating processes until they have satisfied their own need. They may return to certain pieces of equipment in the future and may repeat the processes that they have learned. It is important that the child feels secure and it is for this reason that the equipment they use is at their level, is accessible and in the same place so it is there when they need it.
Baby Room
Your baby's routine to eat, sleep and play are developed according to their own individual requirements and can be adapted as your child grows, develops and changes their routine. Our activities and educational equipment are carefully selected as an early introduction to developmental play in stimulating, safe and child friendly surroundings.
Diaries are written up for each baby during the day and their Key Worker will form a close bond to provide reassurance, security and stability during their time with us.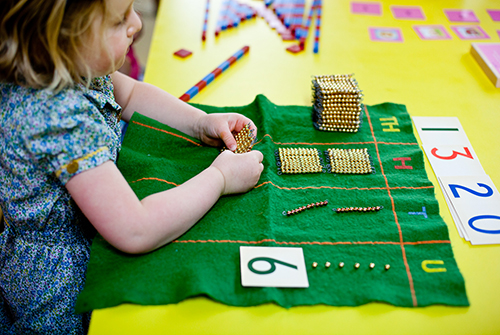 Toddler Room
Individual development is continued and we start to introduce concepts of colour, shape and size. Messy experiences such as water play, sand and clay are introduced and cooking is also part of the toddlers scientific experience. Potty training may start in these groups and the nursery will liaise closely with parents for a smooth transition.
Nursery routines can include a sleep after dinner if required.
Outdoor play is encouraged and we have open access from all our rooms to outdoor activities.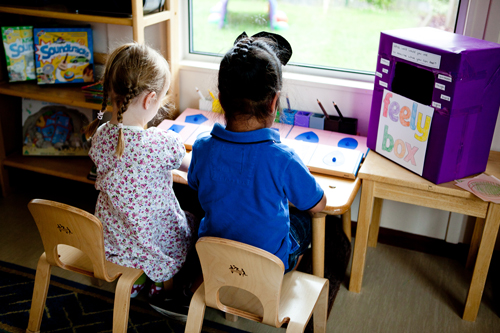 Reception Class
Reception classes are vertically grouped and activities are based on the curriculum for the Early Years Foundation Stage which is integrated alongside the Montessori Curriculum.
Work books are accessed daily to support the curriculum which is developed through topics, themes and festivals.
Personal, social and emotional experiences are developed from the caring environment of the grace and courtesy that Montessori teaching promotes.